Hentai Ouji to Warawanai Neko.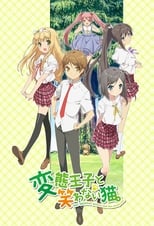 Hentai Ouji to Warawanai Neko.
Youto Yokodera selalu berpikir tentang keinginan duniawi, tapi tak satupun yang mengakui dia cabul. Dia mempelajari tentang sebuah patung kucing yang konon dapat mengabulkan keinginan. Anak itu akan pergi berdoa bahwa dia akan bisa mengungkapkan pikiran penuh napsunya kapanpun dimanapun yang dia inginkan. Pada patung itu, Youto bertemu dengan Tsukiko Tsutsukakushi, seorang gadis dari SMA nya dengan harapanya-bahwa dia tidak akan menunjukan niat sebenarnya begitu mudah.