anime Doctor Death no Isan: BLACK FILE Sub Indo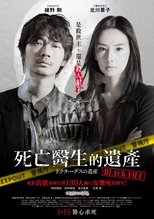 Doctor Death no Isan: BLACK FILE
"Aku akan membunuhmu tanpa menderita."

Dr. Death adalah seorang pembunuh berantai yang menidurkan orang-orang dengan penyakit mematikan setelah mereka menghubunginya di web gelap.
Mitra Hayato Inukai (Go Ayano) dan Asuka Takachiho (Keiko Kitagawa) dari Divisi Investigasi Departemen Kepolisian Metropolitan 1 berangkat untuk menyelidiki pembunuhan tersebut, tetapi keluarga yang berduka berterima kasih atas bantuan penjahat dan melindunginya dengan kesaksian palsu.
Apakah Doctor Death hanyalah pembunuh yang aneh? Atau apakah dia dewa keselamatan? Seiring perkembangan cerita, penonton mungkin akan percaya bahwa pembunuhnya benar.
THE LEGACY OF DR DEATH: BLACK FILE adalah kisah kriminal terlarang yang terinspirasi oleh seorang dokter sungguhan yang menidurkan 130 pasien!